Do you own one of these 2 stroke machines ? Or similar
I may be slow on the uptake and that you already know about these dreaded bits of kit when it come round to fueling them.
Getting the mix correct (2 stroke oil / unleaded fuel)
Some machines are 25/1… 40/1… even 50/1 fuel /oil mix ratio
You are supposed to completely drain fuel tank when finished using plus re starting it and using / emptying the fuel lines completely
Starting these buggers is another issue as when the mix is not correct, accidentally leaving fuel in the tank till next autumn, fuel filters getting blocked with oil residue
Had to take mine for a service a short while ago as all of the above was happening, see below my recommendations for any of the machines mentioned.
The fuel lines usually 2 of them are normally made of cheap black plastic with a crap  filter at the end of them. These lines will perish and the black plastic will blocked filters, fuel lines and the little carburetor.
Get the 2 fuel lines replaced with clear plastic polypropylene (same length as originals which can be 4 to 6 inches each) inc the little filters, one for each of them. If your a Handy Andy you can do this yourself. Go to your local reputable Mower repair shop explain the issue and give them the make and part number of your machine(s) and they will give you the replacement / upgrade (you can remove the fuel lines by gently pulling off the carb plus using a tool of some kind of even a piece of strong wire dip it into the EMPTY fuel tank and fish out the fuel lines with filters attached at the ends then gently pull out from inside the tank whilst pushing thru from the outside). Or, I recommend get a quick service to clean and flush out all the crap and replace the items as i mentioned.
The 2 stroke oil will also overtime leave a heavy residue everywhere which restricts fuel flow. As you may know, unleaded petrol in a plastic container will start to deteriorate after just a few days. OK for a car which hammers high voltage down the system to start up. Not OK for these small machines unless you want arms like Arnie from trying to start them up.
This is the MAGIC FIX as I found out concerning this Fuel / Oil hassle from my local Mower / Machine repair shop…"Aspen Alkylate Petrol"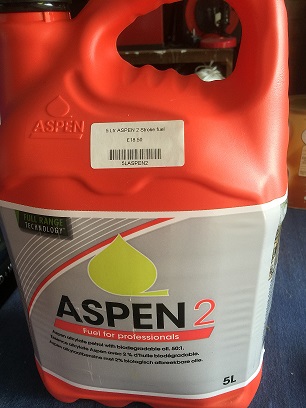 Forget this hassle of mixing fuel and oil for any 2 stroke engine, its starts every time usually without choke depending on the make of your machine and how much you paid for it (cheap & cheerful but does the job or expensive toy as you wanted to piss off the lady of the house).
Dont drain your machine ever again so always at the ready (fuel life expectancy around 2 to 3 years before deterioration). NEVER have to buy separate 2 stroke oil again, ever… 
The fuel is already mixed and prepped at source (the refinery). Its a clear liquid, no smell of petrol in fact no smell at all.
OK, I paid £18 for 5 Liters… You weigh up the hassle, costs, non starting (puts you off doing the job straightaway)… It will easily last a year and i have all the attachments on mine from 2 chainsaws to hedge trimmer plus a huge brush / weed whacker (steel blade not plastic) and finally a strimmer with plastic blades.
The fuel shown above "Aspen 2" is for 2 stroke only and is the best available (as used by professionals, you think they mess around mixing ?) There is a 4 stroke version of this fuel see link for further info… "Aspen Alkylate Petrol"
Hope you find this article useful sorry if I bored you…