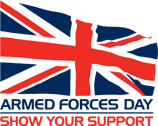 For all members who do not live near us here in Portsmouth – the following event may be of interest to you:
The Armed Forces Day national event is heading to North East Lincolnshire
Each year, North East Lincolnshire hosts an Armed Forces Day but 2016 is going to be a special one. Cleethorpes is proud to host the national event, the focus of the country's attention for the day.
From early in the morning, there will be activity throughout the resort, from the North Promenade to the Boating Lake.
Outline (subject to confirmation):
10am – 6pm – stands and stalls open to the public.
11am – Amphibious Capability Demonstration (beach)
11.35am – Falcons Parachute Display team (beach)
12 noon – Red Arrows Display
1pm – Parade from O'Neills Roundabout to the Leisure Centre
1.06pm – Typhoon flypast
1.45pm – Motorised parade
2.20pm – Red Devils Parachute Display Team
2.55pm – RAFC Cranwell Band performs including Queens Colour Squadron display (Boating Lake)
3.30pm – Chinook Display
3.45pm – Military Wives Choir (Boating Lake, Bandstand)
4.15pm – Battle of Britain Memorial Flight
4.15pm – All For One Choir (Boating Lake, Bandstand)
4.45pm – Black Cats Helicopter Display Team
5pm – White Helmets Motorcycle Display Team (Boating Lake)
5.10pm (TBC) – Royal Navy Parachute Display Team
6.30pm – The Band HM Royal Marines, Sunset Ceremony (Armed Forces Gate)
Evening music at Armed Forces Gate:
Sarah Lowe
Shannon Reilly Trio
Hudson Lewis
10.15pm – Fireworks